Next Order and Delivery Dates:
Special Passover Delivery
for pickup at Chabad Jewish Center, Hyannis
Order due by July 27, 2021 4pm - Delivery Date July 28, 2021 6pm 

Quick Links:
Questions? email Kosher Co-op by clicking here
or text 508-775-2324 
To make an order click here


In 5760 - 2000, Chabad of Cape Cod established the Kosher Co-op Group to help Cape Cod residents obtain all Kosher foods.  Orders are made monthly from the Butcherie of Brookline, MA, and the food is delivered to the Cape by truck.  Orders are delivered to the Chabad Jewish Center, 745 West Main St, Hyannis, 4:00 pm, on the delivery date.
The orders are placed and paid for directly via the Butcherie website at https://www.butcherie.com.  This allows for your full control over every aspect of your order and offers a full inventory of all items available at the Butcherie.  The Butcherie has a $100 minimum order requirement for all orders placed via their website.
To successfully place an order with the Kosher Co-op Group for Cape Cod delivery, please follow all the steps below:
Go to https://www.butcherie.com. 
1. Click on Hello/Sign In on the upper right corner of the screen:
2. If you are a first time user, click on register and create an account.  If you already have an account click on log In:
 
3. Once you register and/or Log In, you may go ahead and select all the items you want to purchase.
 
4. When in the process of selecting your items or at the end of making your order you will be prompted by a pop-up screen to select your delivery address or in-store pickup.
Select PICKUP/DROP-OFF.  (do not fill in any other delivery address details)
5. Then click on the little arrow below PICKUP/DROP-OFF
 
6. Two options will then appear, click and select the lower option Hyannis Chabad, 745 W Main St, Hyannis, MA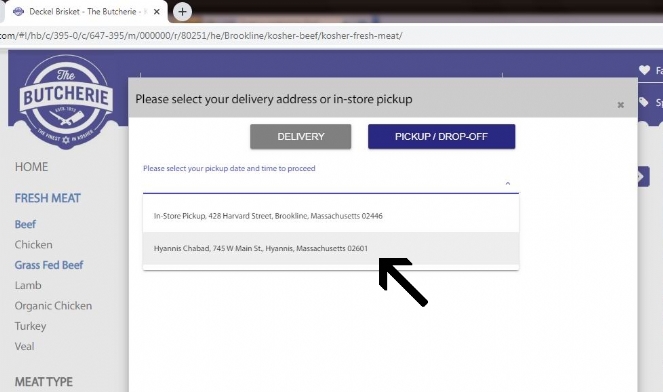 7. You should then see a confirmation screen that looks like the screen below.  Click on OK
 
8. You can now continue your order or complete it by checking out.  Following the above process correctly will enable the Butcherie to identify your order as part of the Kosher Co-op and include it in the Cape Cod delivery.  Failure to submit the order in this specific manner may result in your order not being included in the Cape Cod group as the Butcherie will be unable to identify it as such.